Following VE Day, arrangements were made for the Castellorizians to return to their island.

However, many of their homes on Castellorizo had been destroyed in the Luftwaffe raids as well as by a large fire in 1944. It was decided that they would return in three groups with the first two to undertake repair work and make the island fit for habitation again.

The third group, consisting of women, children and families embarked from Port Said, Egypt on 29 September 1945 upon the British cargo vessel, SS Empire Patrol. Later that day, 38 nautical miles from Port Said, the ship caught fire and distress signals were sent.
Meanwhile, the escort carrier HMS Trouncer was within sight of Port Said having left Malta three days previously. Ordinary Seaman Stanley Scott records that the crew were in quite happy spirits as there was to be shore leave before the ship continued through the Suez Canal.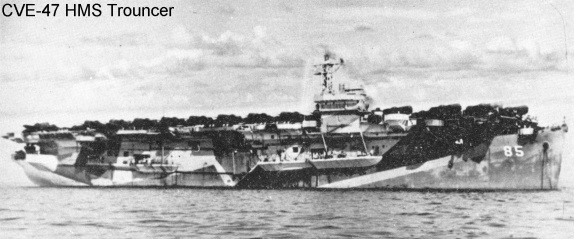 As HMS Trouncer neared the port, it quickly changed course and Ordinary Seaman Scott noticed that
'the flight deck handling party started bringing up Hellcat fighters on the forward lift. We had never been in action during the war and I don't think I had ever seen that particular party work so fast....It was then that I realised that something was afoot'.
Scott was informed by a Petty Officer that a Greek ship full of refugees was on fire about 50 miles away and as the only available fast ship nearby, Trouncer was on its way to pick up any survivors.