The Northern Ireland War Memorial is very pleased to announce the addition of Bombs Falling on Belfast, April 16th 1941, a wax crayon on paper by local artist William Conor, to its Fine Art Collection.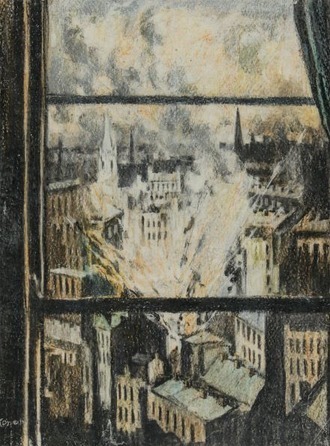 Famed for his depictions of working class life, Conor contributed artworks to the War Artists' Advisory Committee during the Second World War. He was tasked with capturing a visual record of the war effort in Northern Ireland and in this capacity he produced a number of works such as Building an Air Raid Shelter and The Warden that are now held by the Ulster Museum.

In August 1941, he held an exhibition entitled 'Air Raid Memories' in the Linen Salon of Robinson and Cleaver's that showcased Blitz scenes in Belfast and 20% of the proceeds went to the Royal Air Force Benevolent Fund.

He also went on to capture in crayon the moment that Private First Class Milburn Henke became the first official American soldier to step foot in Europe since the end of the First World War when he stepped down the gangplank onto Dufferin Dock in January 1942. Despite a subsequent enquiry from the US Army regarding the purchase of the piece, its location and ownership today is unfortunately unknown.
With its particular reference to the Belfast Blitz, NIWM is very proud to have acquired Bombs Falling on Belfast, April 16th 1941. With future display in mind, the piece is currently undergoing important conservation treatment with fine art conservator Sean Madden.