Every year the museum organises an away-day for Trustees and Staff, and this year, Killymoon Castle was the chosen location as it was home to US soldiers from the 505th Parachute Infantry Regiment of the 82nd Airbourne Division from 1943-44.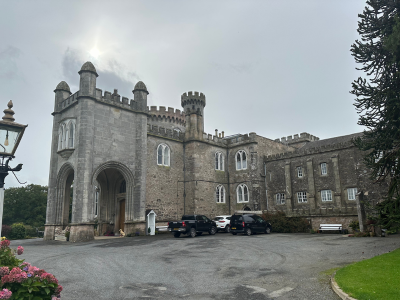 While Trustees conducted a board meeting in the castle, museum staff took the opportunity to deliver outreach programmes with groups in the Mid Ulster area.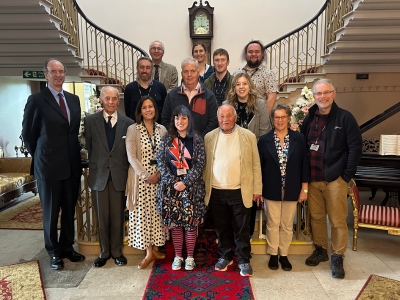 Learning Facilitator Hannah Gallagher visited nearby Donaghey Primary School to deliver a workshop about the Second World War in Northern Ireland with P4 classes. Children had the opportunity to dress up in uniforms and handle objects while learning about topics including the Belfast Blitz, Air Raid Precautions, rationing and evacuees.
In Dungannon Library, Partnerships and Engagement Lead Michael Fryer delivered a reminiscence workshop for members of the public using objects and photographs from the museum's handling collection. Collections Officer Dr James O'Neill also gave a presentation in the library on objects of special interest from the NIWM collection.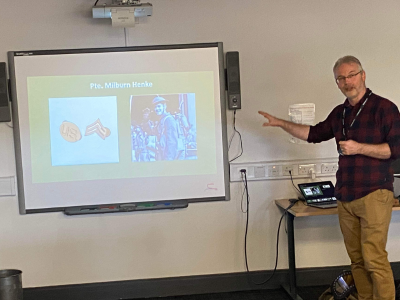 Elsewhere in Dungannon, Research Officer Michael Burns was joined by colleague Mark Johnston to interview Albert Crawford at his home for the museum's Oral History Project. The NIWM is actively collecting first-hand accounts relating to life in Northern Ireland during the Second World War. Mr Crawford's account included stories about wartime Dungannon, American GIs, German PoWs, and the arrest of local Italians by the RUC.

Later that day, NIWM Trustees and staff were given a tour of Killymoon Castle, gaining fascinating insights into the building's Second World War history.