American Red Cross (ARC) personnel initially arrived in Northern Ireland with the second contingent of US troops in March 1942 to provide welfare services for the US military.
This was most prominently carried out through its chain of service clubs, the first example of which in the UK, opened in Londonderry on 6 May 1942.
Established in the Northern Counties Hotel at Waterloo Place, the formal opening was attended by General Russell P. Hartle, Commander of United States Army Northern Ireland Force, Captain William J. Larson, Commanding Officer of the United States Naval Operating Base and Mr Bernard Carter, American Red Cross delegate in the British Isles.
The club included a library, games room, canteen, dormitories, cable service and a barbershop fronting onto the street. Administration and its wider recreational activities were all overseen by three ARC national staff: Club Director, Frank R. Goodall; Assistant Club Director, Mrs Eleanor Kohler, and Program Director, Alfred Cappio. Initially, 25 local staff were employed while a further 175 contributed through volunteering.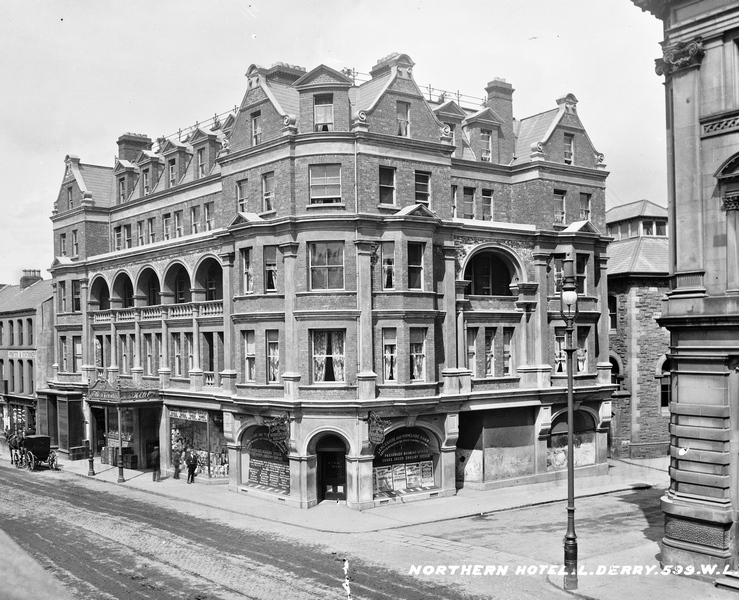 By the end of June the club had 3,448 members and as the ARC expanded its operations, a second club was tentatively established in Belfast, eventually becoming the largest of their facilities in Northern Ireland. Further afield, clubs opened in London, Glasgow and Edinburgh and by September there were 22 in operation in the UK.
The Derry ARC club celebrated its first anniversary with a parade by US Marines and US Navy personnel accompanied by a Seabee band. Afternoon tea for officers of the US forces, volunteers, and guests was held, followed by a birthday dinner for US servicemen and the event concluded with a dance and movies.
As the build-up of US personnel in the UK reached its peak towards the end of 1943 and into 1944, the ARC went through its busiest period of the war. Services had expanded to include specialised clubs on US airfields and US Army camps, mobile units, and shows. In towns and cities, variety existed in the type of clubs available, ranging from large service clubs down to snack facilities called Donut Dugouts. By March 1944 the number of service clubs in operation in the UK had reached 170, of which 17 were in Northern Ireland. But as military operations moved to continental Europe, ARC facilities in the UK diminished. By 1945 only the Belfast and Londonderry clubs remained in operation in Northern Ireland with both eventually having closed by November.